Vapor Intrusion
EAS offers analytical services and sample collection eqiupment for vapor intrusion and soil gas testing.
For more information on collection and analysis of soil gas samples see the following reference(s).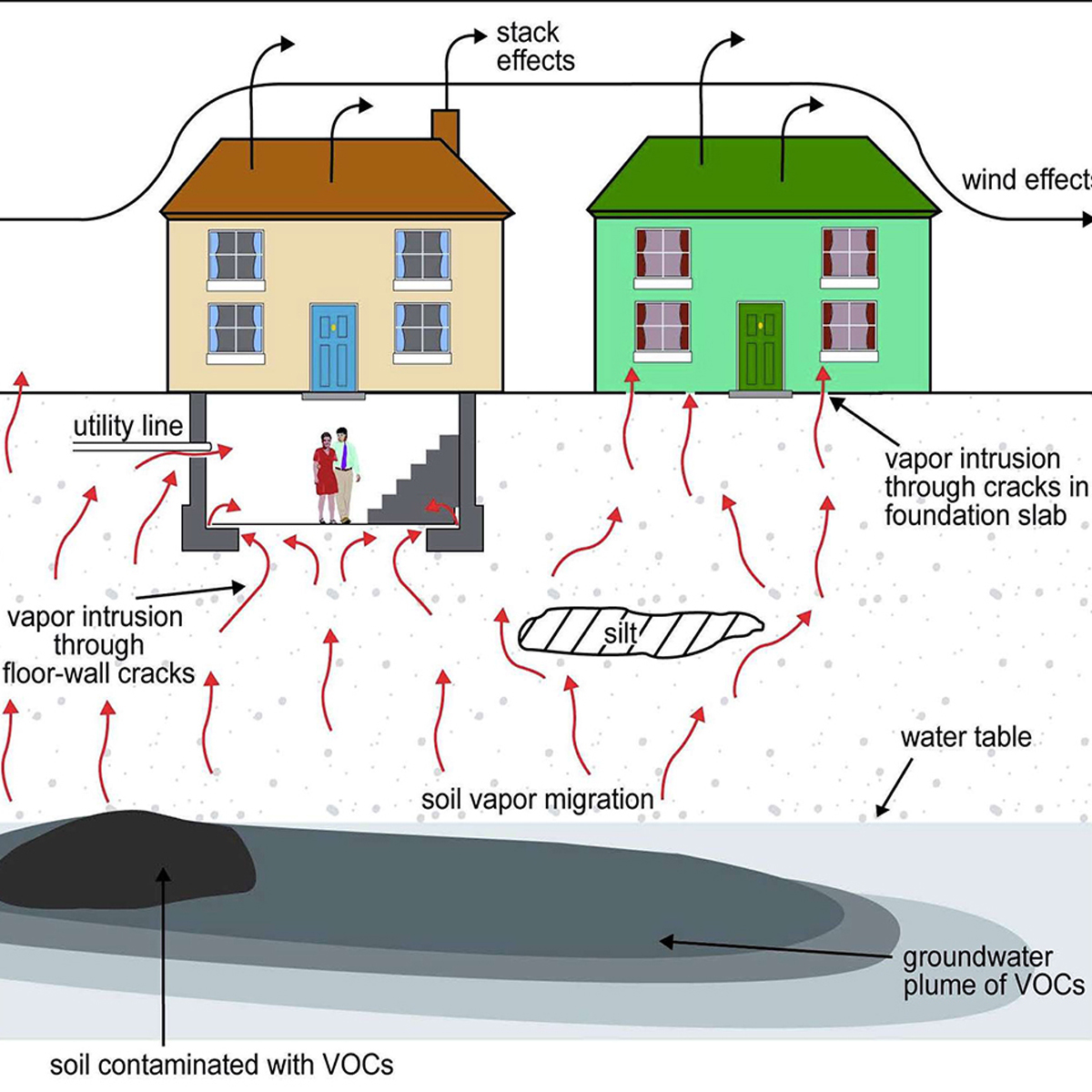 Vapor Intrusion
Vapor Intrusion is the migration of volatile chemicals from contaminated soil or groundwater into a building that is above the contaminated site. The volatile organic compounds have low vapor pressures so they will create vapors in the soil that can migrate through the soil and through the slab or floor into the building. The chemicals then become part of the indoor air that people breathe.
As the chemicals migrate into the building they can reach concentratiuons that can pose a long term health risk for the occupants of the building. The levels associated with long term health risks vary depending on the compound. For certain chemicals the long term exposure limits can be in the part-per-trillion range so it is important to use a method like EPA TO-15 with selected ion monitoring (SIM) to reach these levels.
EAS was a pioneer in developing the EPA TO-15 SIM method back in the early 1980's, and has been using this method for measuring low level VOC compounds in indoor air.
EAS offers a wide range of analytical services, but the table below lists the common tests used for vapor intrusion and soil gas analysis.
| | | |
| --- | --- | --- |
| Method | Description | Sample Media |
| EPA TO-15 | Volatile Organic Compounds (TOC) | Canister |
| EPA TO-15 SIM | Low Level VOC Compounds | Canister |
| EPA TO-17 | Volatile Organic Compounds (TOC) | Sorbent Cartridge |
| EPA TO-17 | Naphthalene | Tenax Cartridge |
| EPA TO-13A Modified | SVOC is Soil Vapor | XAD Cartridge |
| ASTM D1946 | Helium Tracer | Canister, Bag |
| EPA TO-15 | 1,1-DFA Tracer, Other Tracers | Canister, Bag |
| EPA 15/16 | Reduced Sulfur Gases | Silco Canister, Bag |